Impact of Tobacco on African American communities
Cigarette Marketing to the Black Community
Menthol cigarettes caused 157,000 premature deaths among African Americans from 1980 to 2018
Since the 1960s, the tobacco industry has targeted the African American community for the consumption of menthol cigarettes through aggressive marketing, including intense advertising and price discounts.
Unfortunately, this marketing strategy turned out to be deadly for the Black community. The industry exposed this population to a substance that amplifies the damaging effects of cigarette smoking, say researchers David Mendez (left) and Thuy T T Le of the University of Michigan.
For African American smokers, the harm wrought by menthol smoking is much higher than that for the rest of the population. Menthol was responsible for 157,000 smoking-related deaths among African Americans during 1980–2018, over two and a half times their proportional share of menthol deaths compared with the general population.
And, what is even more depressing, 50 percent of all the life-years lost to menthol smoking during 1980–2018 occurred among African Americans.
Source: "Consequences of a match made in hell: the harm caused by menthol smoking to the African American population over 1980–2018" by David Mendez and Thuy T T Le (2021)
"For Black families, cigarette smoking leads to generations of lost parents and grandparents"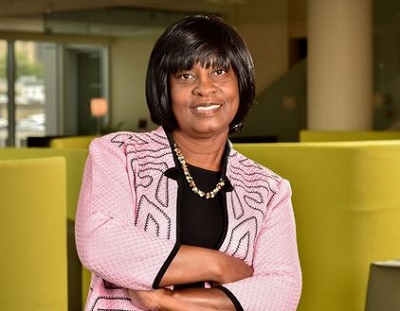 "For Black families, cigarette smoking leads to premature deaths that translate into generations of lost parents and grandparents, our built-in support systems," says Martha Dawson, president and CEO of the National Black Nurses Association.
"Due to the cost of cigarettes, tobacco industries are pulling wealth out of Black families, contributing billions to health care cost, and reducing family income due to lost work productivity.
While Black Americans constitute 12% of the U.S. population, they represent 15% of the extra smokers, 41% of the extra deaths, and 50% of the years of life lost due to menthol.
"If the same data and alarming results were demonstrated in the larger population, menthol cigarettes would be labeled a 'public crisis' and steps would be taken to reverse these trends. Smoking is a preventable chronic disease and the best solution is to not start; plus stop marketing and targeting the Black population."
Source: "How Banning Menthol Cigarettes Can Help Black Families" by Noel Cody on the Essence magazine website. Article sponsored by the Campaign for Tobacco-Free Kids.
"Don't delay! Ban menthol cigarettes"
"The tobacco industry has systematically targeted Black communities and kids with marketing for menthol cigarettes for over 60 years, and our community has paid a horrific price in health and lives," says David Satcher former Surgeon General of the United States.
"Tobacco use is the top cause of preventable death for Black Americans, resulting in the deaths of more than 45,000 annually. Lung cancer – most of which is caused by smoking – is the leading cause of cancer deaths in the Black community."
See "Don't delay! Ban mentol cigarettes" on the Georgia Health News website (August 18, 2021)
How New Tobacco Control Laws Could Help Close the Racial Gap on U.S. Cancer
"We assess and illustrate how the proposed FDA ban on menthol cigarettes could affect U.S. cancer inequities. We adjust for differences in the age structure between U.S. population groups and consider the effect of the bans had they gone into effect in 2021," write Olivia Angelino at the Institute for Health Metrics and Evaluation in Seattle and her colleagues.
"We find that the ban, if implemented effectively, would indeed close the disparity in U.S. lung cancer death rates due to smoking between Black Americans and other U.S. racial and ethnic groups."
"Without that ban, the gap between lung cancer death rates for Black Americans and other U.S. racial and ethnic groups are not projected to close until 2050. With the FDA ban, the gap closes in 2025— twenty-five years sooner—and continues to fall from there, cutting smoking attributable lung cancer death rates in half for Black Americans."
Source: "How New Tobacco Control Laws Could Help Close the Racial Gap on U.S. Cancer" by Olivia Angelino et al. on the Council on Foreign relations website (2023)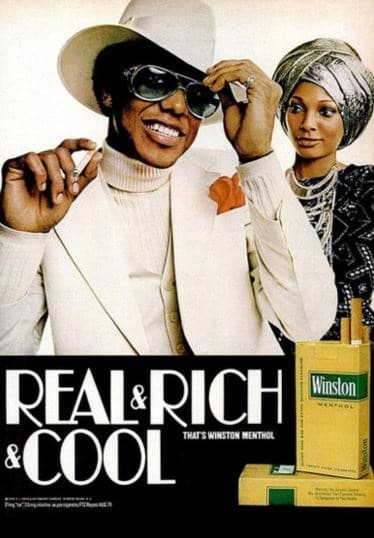 From the Centers for Disease Control and Prevention (CDC)
Menthol is a chemical compound found naturally in peppermint and other similar plants. Menthol can also be produced in a lab. Almost all cigarettes sold in the U.S. contain at least some natural or lab-created menthol. Usually, there is more menthol in cigarettes marketed as "menthol" than in other cigarettes. According to federal law, tobacco manufacturers cannot market cigarettes with a distinct taste, except for cigarettes that taste like menthol or tobacco.
Why is menthol in cigarettes?
Menthol in cigarettes creates a cooling sensation in the throat and airways when the user inhales, making cigarette smoke feel less harsh on the user. Tobacco companies market menthol cigarettes as "smoother" than other cigarettes. However, menthol cigarettes are not less harmful than other cigarettes.
Studies have shown that menthol in cigarettes likely leads people—especially young people—to experiment with smoking. It also could increase a young person's risk of becoming dependent on nicotine.
From their research, tobacco manufacturers knew that young people preferred smaller amounts of menthol in their menthol cigarettes, while older people who smoke preferred more menthol. The tobacco companies purposely lowered the menthol in some of their brands to make young people who smoke and those just starting to smoke want to use them.
Why is menthol in cigarettes harmful?
Menthol cigarettes contribute to tobacco-related health disparities in the U.S. This is because some groups of people are more likely to start smoking menthol cigarettes and keep smoking because of menthol cigarettes, which puts them at higher risk of getting tobacco-related diseases. Adults who smoke menthol cigarettes make more attempts to quit smoking and have a harder time quitting, compared to adults who smoke non-menthol cigarettes.
Even though fewer people are smoking any kind of cigarette now than in the past, the percentage of people who smoke menthol cigarettes is going down more slowly than the percentage of people who smoke non-menthol cigarettes.
Source: Menthol and Cigarettes (Center for Disease Control and Prevention)
Before menthol became popular...
"Marketing coup" transformed menthol cigarettes into the Black cigarette
"It's no accident that African Americans smoke more menthol cigarettes. One of the greatest marketing coups in the 20th century was transforming menthol cigarettes into the Black cigarette," says filmmaker Lincoln Mondy. 
Following World War II, many African Americans had moved to the North. There were specialty products being developed for them, certain hair creams, certain food stuffs. The tobacco industry began to realize that they could market a particular brand of cigarette to this group of people.
The tobacco company Brown & Williamson began to use Black images on television and in their ads. In 1953, 5% of African Americans used menthol tobacco products compared to 3% for Whites. By 1968, that had tripled to 14%, by 1976 it tripled again to over 42%. In the 2000s it was above 80%.
That's the African Americanization of menthol cigarettes in the United States, the targeted marketing for over half a century towards Black folks.
From "Black Lives/Black Lungs," a 15-minute by Lincoln Mondy documenting Big Tobacco's 50+ year campaign transforming the menthol cigarette into a "Black cigarette."
Tobacco industry targeted Black communities with predatory marketing
It was very troubling how the tobacco industry targeted our communities, says Delmonte Jefferson, Executive Director of The Center for Black Health & Equity.
To target our communities with free cigarettes, sampling vans, with the sponsoring of our concerts and events, and paying off some of our elected officials and church officials to promote their cause.
There are a few issues with menthol in particular with regards to public health. It does make nicotine more addictive. It masks the harshness of the smoke to make it easier to get the poison down and makes it easier for people to start smoking.
A 6-minute video from the PBS NewsHour.
Update: FDA Proposes Ban on Menthol Cigarettes
FDA proposes ban on menthol cigarettes
The U.S. Food and Drug Administration on April 28, 2022, released proposed rules to ban menthol cigarettes and flavored cigars.
"The proposed rules would help prevent children from becoming the next generation of smokers and help adult smokers quit," U.S. Health and Human Services Secretary Xavier Becerra said.
FDA Commissioner Robert Califf declared that the proposed bans would "reduce the mortality risk of current smokers of menthol cigarettes or flavored cigars by substantially decreasing their consumption and increasing the likelihood of cessation."
Source: "FDA Proposes Ban on Menthol Cigarettes, Flavored Cigars" by Dennis Thompson on the HealthDay website.
Could save hundreds of thousands of lives
"To see an issue that disproportionately affects African American smokers, women, LGBT people who smoke, lower-income individuals and to say that these lives count just as much as any other life, that gives me real, real hope," said Richard Besser, MD, former director of the U.S. CDC and now president of the Robert Wood Johnson Foundation, a public health advocacy organization.
More than half of kids who smoke use menthol cigarettes, according to the CDC. A survey of adults who smoke found that the majority started with menthols.
Cutting out menthol in cigarettes and cigars could have a significant effect on the number of smokers, the FDA said. By one estimate, it could even prevent 650,000 premature deaths over the next 40 years.
Source: "Ban on menthol cigarettes and flavored cigars could save hundreds of thousands of lives, experts say" by Jen Christensen on the CNN website.
Ban on menthol cigarettes would save an estimated 92,000 to 238,000 African American lives over next 40 years
Tobacco company funds anti-menthol-ban groups and community leaders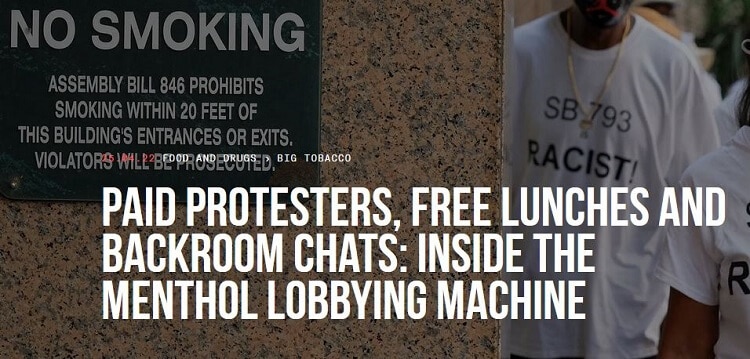 Since the summer of 2021, the Bureau of Investigative Journalism and the Los Angeles Times have tracked how tobacco giant Reynolds American has been trying to keep menthol cigarettes in the hands of smokers.
The company has sought to stoke fears among Black communities about what the bans could mean for them, hiring a team of Black lobbyists, consultants and public figures, and donating to civil rights activist Rev Al Sharpton's organization. They have exploited genuine concerns about police brutality and even invoked the murder of George Floyd.
This investigation has uncovered new details about how the individuals and organisations who have aided the company's objectives have failed to publicly declare their links to Reynolds American's tobacco money. Protesters were even paid $80 each to attend a rally organized by a group with close ties to the tobacco company.
Source: "Paid protesters, free lunches and backroom chats: Inside the menthol lobbying machine" by By Ben Stockton, Emily Baumgaertner, and Ryan Lindsay on the Bureau of Investigative Journalism website.
Opposition to the Ban on Menthol Cigarettes
Study suggests menthol ban could backfire
A Vanderbilt University study could not confirm the FDA's stance that menthol cigarettes are harder to quit. The study tracked more than 16,000 smokers, two-thirds of whom were African American, from 2002 to 2017. The average annual quit rate from those surveys was 4.3% for menthol smokers and 4.5% for non-menthol smokers. Prior research by this Vanderbilt research group has shown that non-menthol smokers are at higher risk for lung cancer. They also noted a study conducted in Canada, which has banned menthol-flavored cigarettes, that revealed that most menthol smokers tend to switch to non-menthol brands rather than quit.
Critics: Ban could lead to conflicts with police
The move to ban menthol cigarettes has the Black community split, with its critics arguing the ban would unfairly target Black Americans and could lead to injustices and policing issues.
Opponents include law enforcement groups who warn it could put undue pressure on police grappling with higher crime rates. However questions have also come up over the financial ties between these groups, as well as big-name political leaders opposing the ban, and the tobacco industry.
"It's not a coincidence that just as the tobacco industry targeted the African American community with its marketing, it has used its money to persuade key members of the community to speak up in its defense,"said Matthew Myers, president of the Campaign for Tobacco-Free Kids.
Source: "Biden's planned ban on menthol cigarettes divides Black Americans" by Alex Gangitano and Julia Manchester on The Hill website.