Genetic mutations and testing
"If we want to understand prostate cancer, we have to understand genes. That's why the genes of prostate cancer patients are so important. They represent the next step in our collective fight against this disease."
The PROMISE study
What can genetic testing tell men about prostate cancer?
Test results may influence your:
Screening frequency. It could mean more active surveillance from a younger age.
Diagnosis: It could reveal that you're more likely to develop an aggressive form of prostate cancer which can affect your initial treatment options.
Treatment options: Men with specific genetic mutations may respond better to certain drugs and treatments and may affect your eligibility for some clinical trials.
Relatives' health decisions: It can help family members understand and manage their risk for cancer. If they have the  same mutation, screening can begin at an earlier age.
See "Genetic testing for prostate cancer: What men and their families should know" by Parker Read on the University of Texas Southwestern Medical Centner website (September 10, 2020)
Who should consider genetic testing for hereditary prostate cancer?
"There are a few scenarios for men to consider genetic testing for inherited prostate cancer," says oncologist Veda Giri, MD, Director of the Jefferson Clinical Cancer Genetics Service in Philadelphia.
"One is for a man who has metastatic disease and who has gone through the standard lines of treatment and their disease is progressing. In that scenario, precision oncology is really where genetics is taking off in terms of helping to guide targeted therapies. The genetics can help inform additional options for treatment.
The other group of men who would want to consider genetic testing are those that have a family history of specific cancers. This is really important for men to consider for their families.  Breast cancer, ovarian cancer, pancreatic cancer, colon cancer, all of these cancers can be linked to an inherited risk for prostate cancer based upon the genes that we might find."
A 2-minute video from OncLiveTV.
A man should think about genetic testing if...
"…his Gleason score is seven or higher and if he has at least one close blood relative with breast or ovarian cancer at age 50 or younger. Or if he has at least two family members with breast, ovarian or prostate cancers at any age.
The actual test is done in a flash. All you need to do is provide a blood or saliva sample. Your urologist may suggest seeing a genetic counselor if the results are positive or uncertain.
Health insurance often covers genetic counseling and tests if they are medically needed." 
A 4-minute video from the Urology Care Foundation.
African American Prostate Cancer Patients Get Fewer Actionable Results, More Variants of Uncertain Significance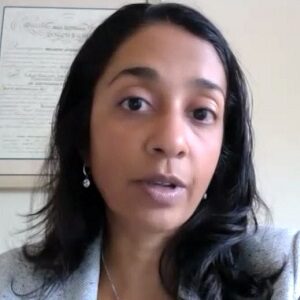 African American men with prostate cancer are receiving more limited germline (hereditary) genetic testing for cancer risk and getting more uncertain results, researchers report.
"Germline testing for prostate cancer is central now to informing treatment in metastatic, castration-resistant disease," explains Veda Giri of Thomas Jefferson University and the Sidney Kimmel Cancer Center's Cancer Risk Assessment and Clinical Cancer Genetics Program, adding that "there's an evolving role for it in the localized disease management setting, as well."
Although prostate cancer disproportionately burdens African American men in comparison to men of other ancestries, Giri said, germline testing rates tend to be low in this patient group, potentially contributing to an inability to fully understand the suite of germline variants that bump up cancer susceptibility in African American men and in their families.
In her study of 427 prostate cancer patients — 190 white and 237 African American men — who had germline cancer susceptibility testing from 2012 to 2020, known risky genetic variants were found in more than 11 percent of White men, but in fewer than 6 percent of the African American patients.
In contrast, variants of uncertain significance (VUS) rates were more than 25 percent in the men with African American ancestry, but just over 16 percent in the White participants. [A "variant of uncertain significance" is a genetic change whose impact on the individual's cancer risk is not yet known. In this case, it reflects the less frequent study of variants in Black cancer patients.]
Giri called for broader panel testing so the field can better understand the germline variants that contribute to prostate cancer risk in the African American men and improve the treatments available to them. "There's a critical need to engage more African American males and families in genetic testing and in research," she emphasized.
See "African American Prostate Cancer Patients Get More VUS, Fewer Actionable Results, Studies Show" by Andrea Anderson on the Precision Oncology News website (June 7, 2022)
See the full text of the scientific paper "Germline Variant Spectrum Among African American Men Undergoing Prostate Cancer Germline Testing: Need for Equity in Genetic Testing" by Veda N. Giri et al.
Two prostate cancer genetic studies recruiting participants
Looking at the link between genes and prostate cancer
Researchers from Johns Hopkins University and the University of Washington School of Medicine are collaborating on a first-of-its-kind long-term observational study to learn how genetic differences can affect patient outcomes. The study is dubbed PROMISE (Prostate Cancer Registry of Outcomes and Germline Mutations for Improved Survival and Treatment Effectiveness).
Above is Dr. Heather Cheng, MD, PhD, of the University of Washington School of Medicine, director of the Prostate Cancer Genetics Clinic at Seattle Cancer Care Alliance and co- lead investigator of PROMISE.
See "First-of-its-Kind Study Looks at Link Between Genes and Prostate Cancer" (2021). 
Joining the PROMISE study
PROMISE is building a genetic database directly from a grassroots network of patients so that every prostate cancer patient who is interested can better understand their genetic risk and potential treatment options.
Men with prostate cancer are eligible to join. Participation is free. PROMISE will send you a simple, home-based DNA test kit. Simply provide a saliva sample and return it via US mail. The kit will screen for any of the 30 cancer risk genes PROMISE is testing.
PROMISE will provide you with a licensed genetic counselor to help you understand what your results mean for you. You'll discover if you have any gene mutations that affect your care plan. These results may inform you of available treatment options and previously unknown risks of family members developing prostate cancer.
Watch the video above and for more information, see prostatecancerpromise.org
Metastatic Prostate Cancer Project
Looking at advanced prostate cancer's genetic and molecular causes
The Metastatic Prostate Cancer Project is a nationwide genomic research study for men with advanced or metastatic prostate cancer. It seeks to generate the most comprehensive database that will be shared with the entire research community to accelerate discoveries.
"This project will connect men with metastatic and/or advanced prostate cancer across the country with scientists using cutting-edge technology to study cancer's genetic and molecular causes. While prostate cancer is very common, few men have the ability to contribute their tumor samples and clinical data to cancer research, largely because they do not have a way of doing so."
"We believe everyone should have the opportunity to contribute to research, especially now that the combination of genome sequencing and internet-based communication has made it easier to give people that opportunity."