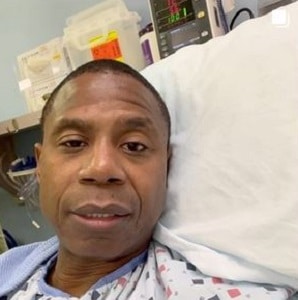 Doug E. Fresh took to Instagram to share his recent colonoscopy experience in honor of the late Kangol Kid. The rapper shared all he could from the medical procedure with a message to viewers on the importance of preventative care.
"This is for my brother #kangolkid and all those who passed from this horrible disease," he wrote on Instagram. "We have to be proactive about our health. To all my brothers out there, let's do a better job of caring for ourselves."
Source: "Doug E. Fresh Documents Colonoscopy Experience In Honor Of Kangol Kid" by Demicia Inman on the Vibe website (March 28, 2022)
Kangol Kid, Early Rapper Who Sought "Roxanne," Dies of Colon Cancer at Age 55
Kangol Kid, a rapper in the group UTFO and a key contributor to the 1984 single "Roxanne, Roxanne," one of the most influential and widely imitated songs of commercial hip-hop's early years, died from colon cancer in December 2021. He was 55.
Kangol Kid was diagnosed 10 months earlier with stage III colon cancer. Finding blood in or on his stool was Kangol's on-again, off-again warning sign that he ignored until it was too late. "Being a typical man, my mindset was it'll get better, it'll be fine," Kangol said in April.
There's a deep-rooted reason why Black men avoid talking about health concerns and getting treatment, Kangol explained. "We ignore it. We don't take it seriously. That's how we deal with the facts," he said. "It's that whole man-like mentality. You're raised to deal with things and keep it in."
Silence is a deadly tradition passed from one generation of Black men to the next. "A man would say to his son, 'Toughen it up,'" Kangol said. "'You can deal with that, be brave, be strong.' 
Now Kangol said he was fearlessly challenging those notions by using his voice. "Little by little, we're undoing what has been done for generations. The new look for hip hop and cancer is to go get yourself checked out before it happens."
Source: "Kangol Kid: The New Look for Hip Hop and Cancer" by Steven Bushong on the Colorectal Cancer Alliance website (April 27, 2021)