Download free prostate cancer publications
"If You Have Prostate Cancer"
A short, simple guide to prostate cancer from the American Cancer Society. Includes definitions of all the terms used in diagnosing and treating prostate cancer, along with dozens of questions to ask at each stage.
Free download here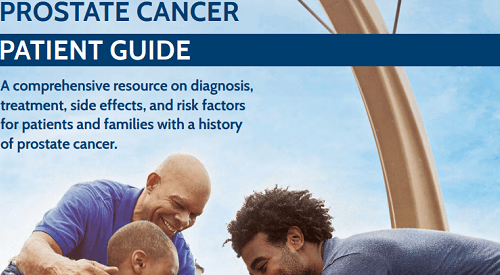 The Prostate Cancer Patient Guide from the Prostate Cancer Foundation has been updated for 2021 and was compiled with the contributions of top-tier doctors and researchers in prostate cancer. Includes new FDA approvals, helpful graphics and worksheets, and a revised section on the treatment of advanced prostate cancer.
Free download here
Two pages of answers to five major questions about prostate cancer,  12 prostate cancer vocabulary defined, and 15 questions to ask a health care team about your prostate cancer. From the American Society of Clinical Oncologists, a professional organization for physicians and oncology professionals caring for people with cancer.
Free download here

A 20-page guide to prostate cancer, including screening, diagnosis, treatment, and clinical trials. From ZERO, a nonprofit with the mission to end prostate cancer.
A 52-page booklet about prostate cancer basics, diagnosis, treatment, side effects, follow-up care, a dictionary of prostate cancer terms, and worksheets. From the American Society of Clinical Oncologists, a professional organization for physicians and oncology professionals caring for people with cancer.
Free download here
Five patient support programs from Zero The End of Prostate Cancer,  including a a free, comprehensive patient support service that helps patients and their families navigate insurance and financial obstacles to cover treatment and other critical needs associated with prostate cancer.
Free download here
National Comprehensive Cancer Network Guidelines for Patients are developed by the National Comprehensive Cancer Network, an alliance of leading cancer centers across the United States devoted to patient care, research, and education. The Guidelines present information in an easy-to-learn format for people with cancer and those who support them and explain the cancer care options likely to have the best results.